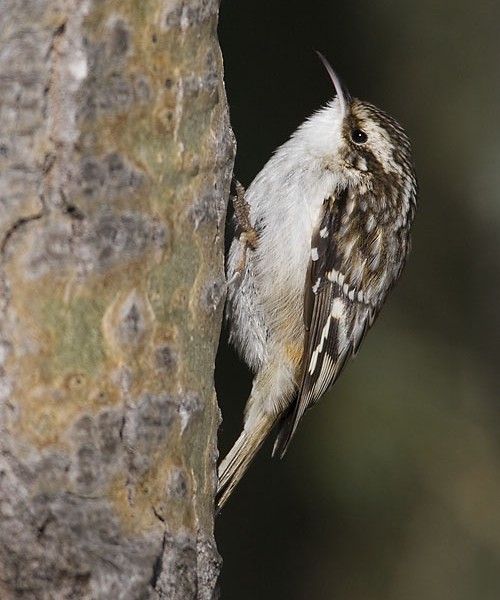 Brown Creeper
(Certhia americana)
Habitat Ecology
Brown Creepers occupy a broad range of forests and are most common in mature to old coniferous forests and mixedwoods containing poplar or birch. They are rare in unproductive black spruce and jack pine stands1.
Their preferred habitat is older-than-rotation age stands (e.g., >80 years)2, and they are also found in recently burned forests3. In interior BC, they are associated with very large (>100 cm dbh, >80 year-old) Douglas fir1.
Brown Creepers build a cup nest of twigs, bark, and other material between sloughing bark and the bole of a tree. Dead and dying trees with papery bark are therefore important habitat features2. They will also nest in crevices created by frost cracks and fire scars4.
Response to Forest Management
Brown Creepers are highly sensitive to harvesting, including partial retention up to 80%1,5, moderate to heavy thinning6, and salvage logging of burned stands with <20% snag retention2.
Despite being highly sensitive to harvesting, this species was observed within stands with residual patches containing large-diameter trees—albeit at 10–15% of their abundance in the unharvested forest7.
They are sensitive to fragmentation: in a study in eastern Canada, Brown Creepers were reluctant to cross gaps >25 m wide in balsam fir stands8.
Stand-level Recommendations
Large retention patches are recommended, anchored around large-diameter trees/snags with sloughing bark (especially birch and Douglas fir) in coniferous and mixedwood stands2.
Patches >4.5 ha or as large as possible are recommended, although smaller  patches nevertheless contribute to stand-level complexity and longer-term habitat quality9.
Landscape-level Recommendations
Contiguous, large forest stands exceeding the rotation age are the most valuable habitat for this species, with minimum stand sizes of 10 ha10 up to >54 ha1 recommended.
Edge reduction within old forest stands is recommended as Brown Creepers are associated with stands with low edge densities (e.g., <18.5 m/ha in Ontario)11.
Riparian buffers in Douglas fir/western hemlock forests >30 m wide, and particularly buffers >80 m wide, contribute to habitat on the landscape12.
References
Poulin, J.-F. et al. 2013. Brown Creeper (Certhia americana), version 2.0. in The Birds of North America (Rodewald, P. G., ed.) Cornell Lab of Ornithology, Ithaca, New York, USA. Available online: https://doi.org/10.2173/bna.669
Alberta Sustainable Resource Development. 2003. Status of the Brown Creeper (Certhia americana) in Alberta. Alberta Sustainable Resource Development, Fish and Wildlife Division, and Alberta Conservation Association, Wildlife Status Report No. 49, Edmonton, AB. 30 pp.
Hobson, K. A. & Schieck, J. 1999. Changes in bird communities in boreal mixedwood forest: Harvest and wildfire effects over 30 years. Ecological Applications 9: 849–863.
Bonar, R. 2018. Personal communication. April 6, 2018
Vanderwel, M. C., Malcolm, J. R. & Mills, S. C. 2007. A meta-analysis of bird responses to uniform partial harvesting across North America. Conservation Biology 21: 1230–1240.
Hayes, J. P., Weikel, J. M. & Huso, M. M. P. 2003. Response of birds to thinning young Douglas-fir forests. Ecological Applications 13: 1222–1232. Available online: http://dx.doi.org/10.1890/02-5068
Leston, L., Bayne, E. & Schmiegelow, F. 2018. Long-term changes in boreal forest occupancy within regenerating harvest units. Forest Ecology and Management 421: 40–53. Available online: https://doi.org/10.1016/j.foreco.2018.02.029
Schieck, J., Stuart-Smith, K. & Norton, M. 2000. Bird communities are affected by amount and dispersion of vegetation retained in mixedwood boreal forest harvest areas. Forest Ecology and Management 126: 239–254.
Rail, J.-F., Darveau, M., Desrochers, A. & Huot, J. 1997. Territorial responses of boreal forest birds to habitat gaps. The Condor 99: 976–980. Available online: http://www.jstor.org/stable/1370150
Hejl, S. J., Mack, D. E., Young, J. S., Bednarz, J. C. & Hutto, R. L. 2002. Birds and changing landscape patterns in conifer forests of the north-central Rocky Mountains. Studies in Avian Biology 25: 113–129. Available online: https://www.researchgate.net/profile/Richard_Hutto/publication/267211708...
Geleynse, D. M., Nol, E., Burke, D. M. & Elliott, K. A. 2016. Brown Creeper (Certhia americana) demographic response to hardwood forests managed under the selection system. Canadian Journal of Forest Research 46: 499–507. Available online: https://doi.org/10.1139/cjfr-2015-0112
Rempel, R. S. 2007. Selecting Focal Songbird Species for Biodiversity Conservation Assessment: Response to Forest Cover Amount and Configuration. Avian Conservation and Ecology 2: 6. Available online: http://www.forestco-op.ca/files/birds_workshop/ACE-ECO-2007-2.pdf
Hagar, J. C. 1999. Influence of riparian buffer width on bird assemblages in western Oregon. The Journal of Wildlife Management 63: 484–496. Available online: http://www.jstor.org/stable/3802633