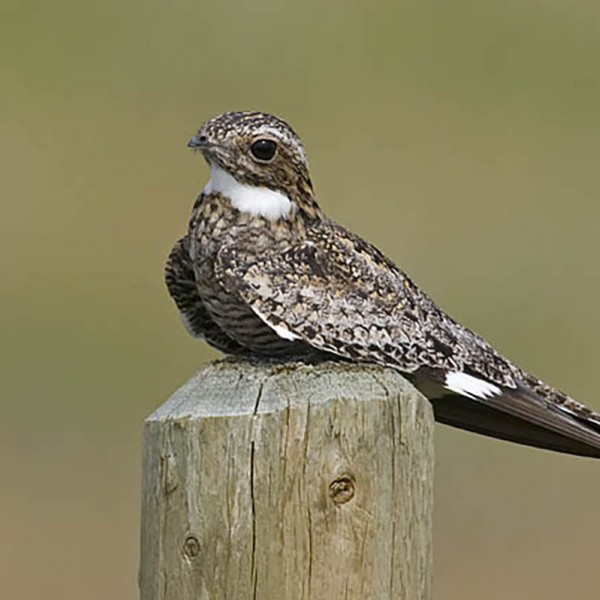 Common Nighthawk
(Chordeiles minor)
Habitat Ecology
Common Nighthawks are mainly found in grassland habitats, but part of the population breeds in open pine or mixedwood forests including lodgepole pine, ponderosa pine, mixed pine/aspen, and young mixedwoods.1–5
This species prefers open habitats including recently burned or logged stands.6 They hunt by catching insects mid-air over open ground and/or water.1
Common Nighthawks lay two large, spotted eggs on open ground or near logs, boulders, grass clumps or shrubs.1
Response to Forest Management
Fire suppression is the main threat to Common Nighthawks as it reduces openings and bare ground within forested habitats needed for foraging and nesting.6 Afforestation of abandoned agricultural areas and grasslands likewise reduces habitat availability for this species.7
Common Nighthawks have been observed in stands with low (2%) retention, recent clearcuts, and recently thinned Douglas fir stands (30–40% retention), however at numbers too low for statistical analysis.8–10
Stand-level Recommendations
Recent harvests or burns may attract nesting pairs of Common Nighthawk, and ground nests are highly vulnerable to disruption during silviculture (e.g., site preparation, planting) or salvage logging.6
Operators should be on the lookout for this species from mid-May until the end of August.1
The following recommendations apply to operators working in recently disturbed (mainly pine) stands:
Halt operations if a flushing adult is observed and mark off the suspected or known nest area to be avoided.
General buffer recommendations for ground-nesting species range from 10–25 m for low-impact activities (e.g., planting) and 50–100 m for high-impact activities (e.g., road-building).11
If defensive behaviour (e.g., hissing, diving, flushing) is observed, buffer distances should be increased until the behaviour ceases.
Landscape-level Recommendations
Maintenance of natural disturbance regimes (e.g., wildfire) and management within the natural range of variation to maintain distribution of early-seral habitats.2–5,12
Province-wide data indicates that tamarack stands and wetlands may represent important habitat on the landscape,13 however these passive areas should not be considered as substitutes for open upland forests, whose value is known.
References
Brigham, R. M., Ng, J., Poulin, R. G. & Grindal, S. D. 2011. Common Nighthawk (Chordeiles minor), version 2.0. in The Birds of North America (Rodewald, P. G., ed.) Cornell Lab of Ornithology, Ithaca, New York, USA.
Environment Canada. 2013. Bird Conservation Strategy for Bird Conservation Region 4 in Canada: Northwestern Interior Forest. Canadian Wildlife Service, Environment Canada, Whitehorse, Yukon. 138 pp. + appendices.
Environment Canada. 2013. Bird Conservation Strategy for Bird Conservation Region 9 Pacific and Yukon Region: Great Basin. Canadian Wildlife Service, Environment Canada, Delta, British Columbia. 105 pages + appendices.
Environment Canada. 2013. Bird Conservation Strategy for Bird Conservation Region 6: Boreal Taiga Plains. Canadian Wildlife Service, Environment Canada, Edmonton, Alberta. 288 pp.
Environment Canada. 2013. Bird Conservation Strategy for Bird Conservation Region 10 in Pacific and Yukon Region - Northern Rockies. Canadian Wildlife Service, Environment Canada, Delta, British Columbia. 109 pages + appendices.
Environment Canada. 2016. Recovery Strategy for the Common Nighthawk (Chordeiles minor) in Canada. Species at Risk Act Recovery Strategy Series Species at Risk Act Recovery Strategy Series. Environment Canada, Ottawa. vii + 49 pp.
COSEWIC. 2007. COSEWIC assessment and status report on the Common Nighthawk Chordeiles minor in Canada. Committee on the Status of Endangered Wildlife in Canada, Ottawa. vi + 25 pp.
Schieck, J., Stuart-Smith, K. & Norton, M. 2000. Bird communities are affected by amount and dispersion of vegetation retained in mixedwood boreal forest harvest areas. Forest Ecology and Management 126: 239–254.
Farrell, C. E., Wilson, S. & Mitchell, G. 2017. Assessing the relative use of clearcuts, burned stands, and wetlands as breeding habitat for two declining aerial insectivores in the boreal forest. Forest Ecology and Management 386: 62–70. Available online: http://linkinghub.elsevier.com/retrieve/pii/S0378112716306600
Hagar, J. C., Howlin, S. & Ganio, L. 2004. Short-term response of songbirds to experimental thinning of young Douglas-fir forests in the Oregon Cascades. Forest Ecology and Management 199: 333–347.
OMNR. 2010. Forest Management Guide for Conserving Biodiversity at the Stand and Site Scales - Background and Rationale for Direction. Queen's Printer for Ontario, Toronto, ON. 575 pp.
West Fraser Mills Ltd. 2014. Common Nighthawk Habitat Conservation Strategy (version 1). Hinton Wood Products and Edson Wood Products, West Fraser Mills, Hinton and Edson, Alberta. 14 pp. Available online: http://www1.agric.gov.ab.ca/$department/deptdocs.nsf/ba3468a2a8681f69872569d60073fde1/b911b4f575259b5a87257f6500005ec2/$FILE/common-nighthawk-ssc.pdf
ABMI. 2017. Common Nighthawk (Chordeiles minor). ABMI Species Website, version 4.1 Available online: http://species.abmi.ca/pages/species/birds/CommonNighthawk.html