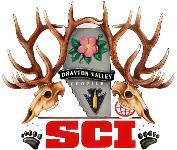 About
We are a society of avid hunters and outdoor enthusiasts who are dedicated to promoting responsible use of our natural resources.
We care about hunting, fishing, wildlife and outdoor experiences within the natural environment we all live in and enjoy.
We are passionate about protecting and conserving the outdoors and its resources for generations to come.
Through our parent organization - Safari Club International - we promote and present a number of wildlife conservation and humanitarian efforts within our community,support Safari Club International in their endeavors toward ensuring hunting rights are protected worldwide.