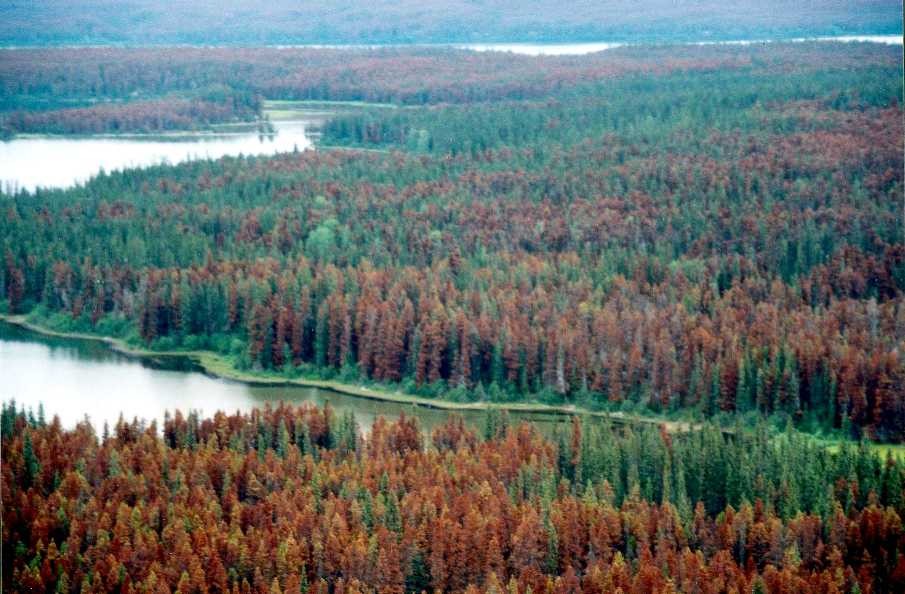 Mountain pine beetle is Alberta's most serious threat facing its pine forests calling attention to the stability of the forest industry, well being of forest based communities, provisioning of ecological services and public safety. Evidence clearly indicates the beetle is expanding its range eastward and northward. As novel habitats are encountered science needs to remain current by adjusting emphasis in anticipation changing dynamics. Scientists are convinced that surprises will be encountered necessitating the science agenda to be forward looking to meet new and unexpected challenges.  
In 2013 the Mountain Pine Beetle Ecology Program formalized its research priorities into four Research Themes. Each Research Theme has a series of critical questions, answers to which are considered key results to aid the management and spread of the beetle, and the rehabilitation of damaged landscapes.  As the challenges have become more complex our need for additional information has expanded and is reflected by new questions added under each Research Theme.
The research community is invited to view the Research Themes, their rationale and critical questions and respond if interested by submitting an Expression of Interest according to the format provided.  It is intended that approximately $600,000 will be allocated to new research, and although no maximum funding level per project has been set, respondents need to be mindful of MPBEP's objective of selecting a minimum of five projects.
It should be noted that not all questions in earlier requests for proposals were addressed and for those that were selected (denoted by (*)), alternate interpretations and approaches in answering the questions are encouraged.
The four Research Themes are (click the file to see the full theme description):
The Expression of Interest is not a formal research proposal, instead, it outlines your ideas about or interpretation of the critical question you have selected to address along with a brief overview of the methodology, expected results, requested budget, time frame and deliverables.  Your Expression of Interest will be reviewed by a panel and should the panel deem your submission acceptable to proceed to a full proposal, proponents will be notified with specific details.
The outline for the Expression of Interest can be found here.  
EOI Outline 2017.pdf