Grizzly Bear Program
Providing knowledge and planning tools to ensure the long-term conservation of grizzly bears in Alberta.
The Grizzly Bear Program is not starting new research projects at this time. We are continuing to publish papers and maintain our long-term dataset and GIS tools for our academic, government, and industry partners.
The fRI Research Grizzly Bear Program was created in 1998 to provide knowledge and planning tools to land and resource managers to ensure the long-term conservation of grizzly bears in Alberta. Key to its efforts are sound scientific field research, practical results, and a large-scale or "landscape level" approach toward grizzly bear conservation.
The foundation of the program is a rich, long-term spatial dataset. We use detailed grizzly bear movement data obtained from grizzly bears captured and fitted with GPS collars to create resource selection function models that identify the probability of grizzly bear occurrence on the landscape. With these outputs we can then generate graph theory based grizzly bear movement corridor maps. When combined, these products represent the most important grizzly bear conservation tools available to land and resource managers who are faced with important decisions regarding land management in grizzly bear habitat.
The program's original study area was located in west-central Alberta, south of Highway 16 with the Brazeau River as its southern boundary. The study area encompassed 10,000 km2. In 2003, the Grizzly Bear Program began expanding its study area and today has a suite of GIS tools seamlessly covering the entire grizzly bear range in Alberta.
Starting in 2004, we have worked with the Government of Alberta to systematically survey and re-survey Bear Management Areas to estimate grizzly bear populations over time. The effort culminated in 2018 when we conducted our final two surveys, including the first ever survey of the Swan Hills Area. This allowed the province to create a scientific estimate for Alberta.
We also study how habitat and landscape features are linked to grizzly bear presence, persistence and health. Working with scientists across Canada, the US, and Scandinavia, we have developed new methods for studying grizzly bear health, stress, fertility, body condition, and more based on tissue samples collected during live capture, as well as through non-invasive methods such as hair collection.
Program Lead
Karen Graham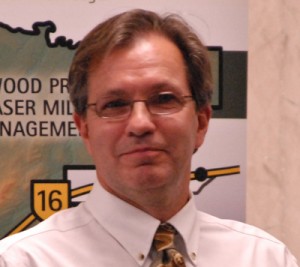 Gord Stenhouse
Program Lead
Karen Graham
Program Lead
Since 1998, the program has added immensely to our understanding of grizzly bears, helped to train the next generation of wildlife biologists, and improved the methods that scientists use to study many species and ecosystems.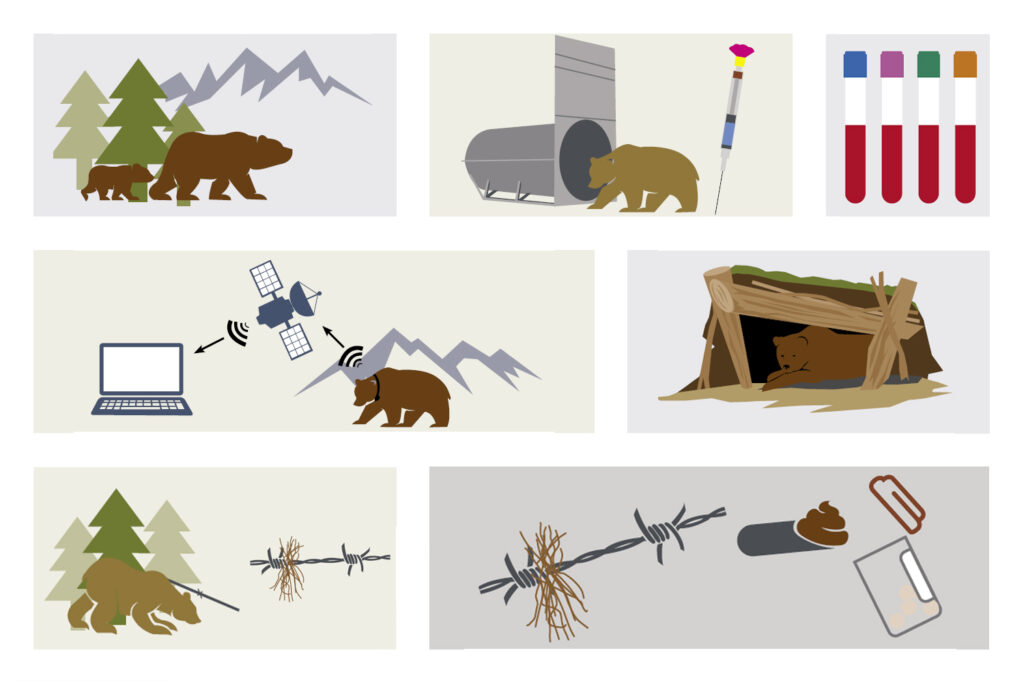 This collection of infographics shows off six ways the Grizzly Bear Program has transformed grizzly bear research and management in Alberta.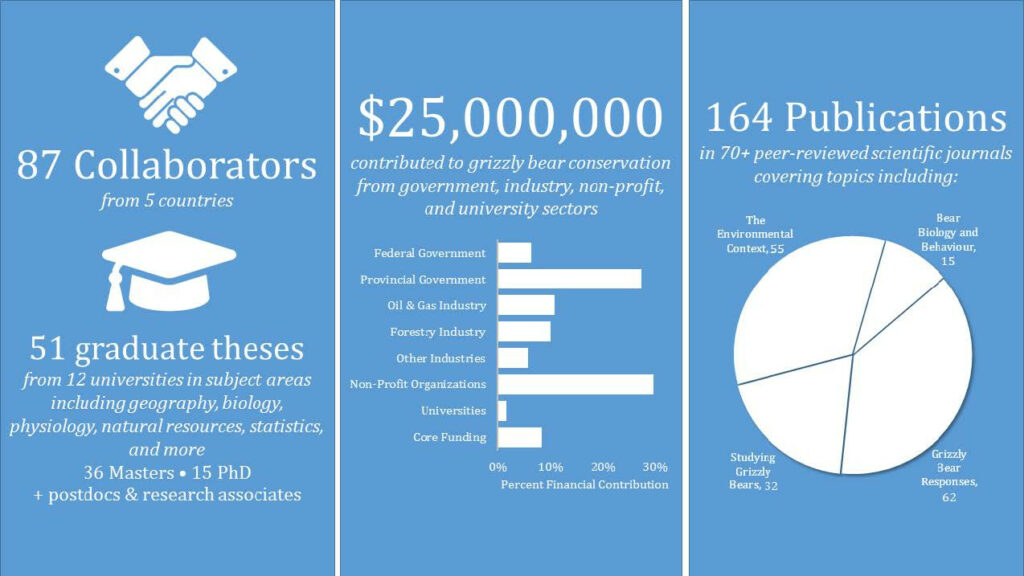 Over two decades of peer-reviewed papers, reports, and graduate theses for masters and PhD students have left a lasting and living scientific legacy.