By Cam McClelland
With one field season in the books, and another one approaching, we thought we would share how the project is going so far. Our goal for this project is to collect and compare vegetation from cut blocks and wildfires across age classes and habitat types in order to see under which conditions caribou foods grow best.
Last season we sent out 6 technicians all over Alberta to collect as much data as possible. They faced many challenges including, bugs, heatwaves, mud, and of course the ongoing covid-19 pandemic. Through all this they managed to gather data from 307 sites, including 175 wildfire sites and 132 cut block sites. We visited 3 main areas:
West Central Alberta, which contains the Narraway, À la Pêche, Little Smoky and Redrock-Prairies Creek herds,
North West Alberta, which contains the Chinchaga herd, and
North East Alberta, which contains the East and West Athabasca, Nipisi, and Red Earth herds.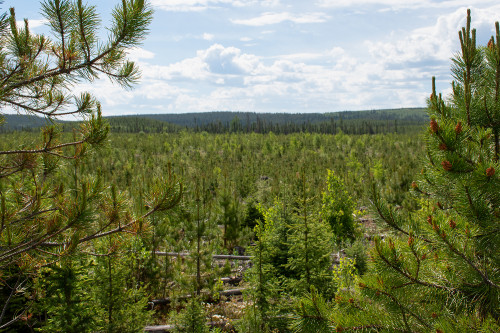 We are now beginning preparation for field season number two, which encompasses hiring, planning sites, and gathering field gear.  This season, we will finish collecting data within cut blocks and fires and will also begin gathering vegetation data within caribou use areas.
Incorporating caribou use areas into our analysis will allow us to compare vegetation within wildfire and cut clocks to vegetation in areas where we know caribou use regularly, hopefully allowing us to see which treatments create caribou habitat.