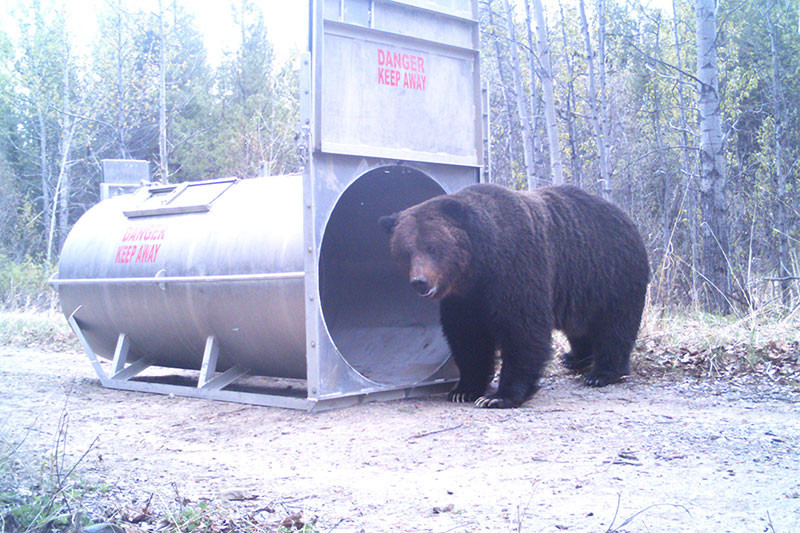 Abstract
Context: To mitigate conservation conflicts, some jurisdictions translocate large carnivores into novel environments where they have no previous experience. Behavioural responses of these individuals are not typically monitored to evaluate the impacts of this management approach on the animals or populations.
Aims: We examined how grizzly bears (Ursus arctos) involved in conservation conflict responded to novel environments after translocation.
Methods: We used GPS location data to compare grizzly bears translocated to a novel environment (n = 12) with bears resident within the new area (n = 12). Our analyses investigated differences between these groups in relation to exploration behaviour, habitat use and response to human-caused mortality risk.
Key results: Translocated bears had higher movement rates, greater daily displacement and revisited areas less frequently than did resident bears. They spent more time in poor-quality habitat and the habitat used was of even lower quality in the second year after translocation. Translocated bears selected for agricultural lands and active oil and gas wellsites. They also spent more time in areas with higher potential mortality risk than resident bears. However, translocated bears avoided residential areas, which resident bears selected, and crossed roads at the same rate as did resident bears. Both groups avoided campgrounds and recreation sites. Only 25% of bears engaged in further conflict behaviour after translocation and 67% of translocated bears survived over the 2-year monitoring period.
Conclusions: This work found differences in exploration behaviour and habitat use between translocated and resident bears, and showed that translocated bears can survive without reoffending during the critical few years following translocation.
Implications: Managers and the public should recognise potential impacts for translocating grizzly bears. Translocated bears require time to explore and learn within their new environment, a process that can occur without repeating conflict. When conflict behaviour does re-occur, it should be viewed as a part of animal learning and not immediately as failure. On the basis of the amount of time translocated bears spent near humans and anthropogenic features, our findings suggest that translocated bears do not pose a greater threat to humans than do resident bears.
Read the full paper here.
Citation
Stenhouse Gordon B., Larsen Terrence A., McClelland Cameron J. R., Wilson Abbey E., Graham Karen, Wismer Dan, Frame Paul, Phoebus Isobel (2022) "Grizzly bear response to translocation into a novel environment." Wildlife Research. https://doi.org/10.1071/WR21060