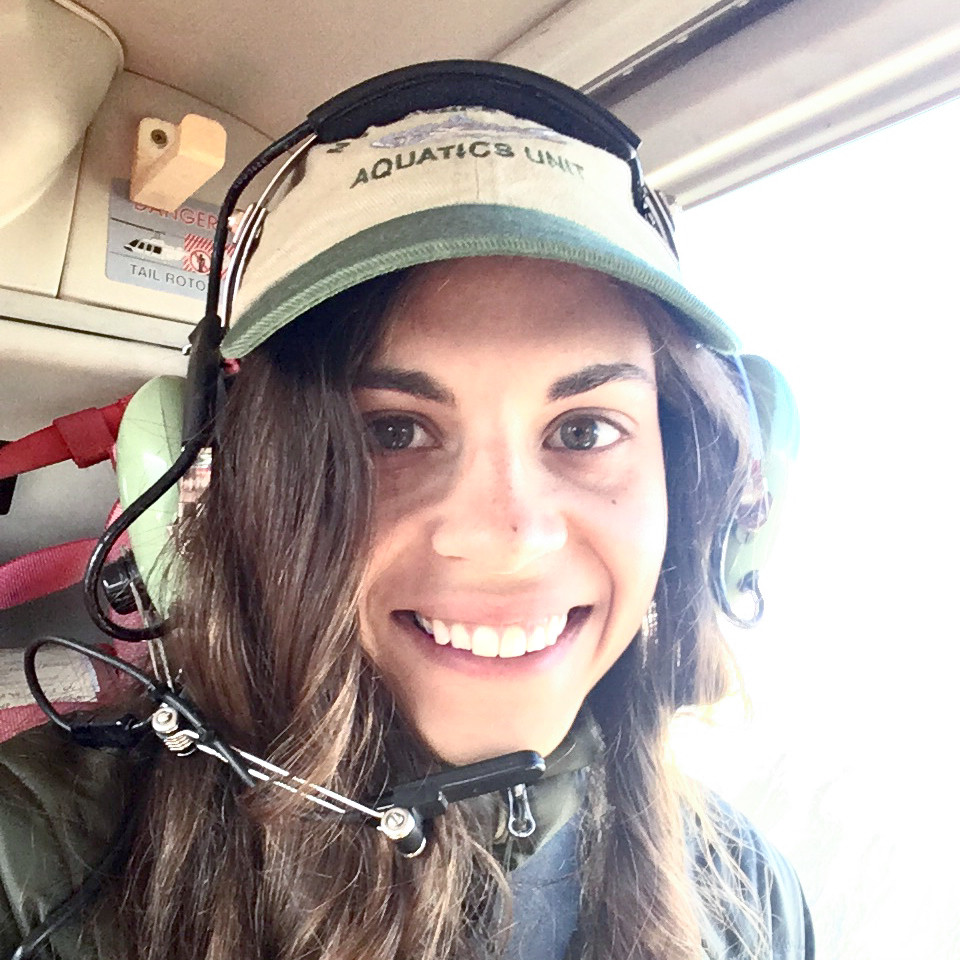 Dr. Lucy Poley has started a research project mining a trove of wildlife photos that the Caribou Program has been collecting since 2013. The pictures are all snapped automatically by hundreds of trail cameras spread out on seismic lines. Poley, a post doc at the University of Calgary, is trying to find out which species match up with different kinds of seismic lines.

In order to drive seismic equipment for oil and gas exploration through the boreal forest, energy companies have been cutting these lines for decades. Though just a few meters across, they run over the foothills as straight as an arrow. And in Alberta caribou habitat, there are be so many crisscrossing the boreal that there can be several kilometers of seismic lines inside just a single square kilometer patch of forest.
For Poley, this is a striking contrast to the woodland caribou herds she studied in northern Ontario, where the landscape has much less industrial activity. And for caribou, a specialist species that need large patches of undisturbed habitat, it's a big problem. The Little Smoky herd, the most sliced and diced range in Alberta, contend with so many "linear features" – seismic lines, pipelines, and roads – that just 1% of their habitat is considered undisturbed. None of the herds in west-central Alberta enjoy the federal government's target of 65% undisturbed habitat.
"We're going to see the loss of some of these herds if action isn't taken to restore some of their habitat," says Poley.
However not all seismic lines are equal. Beyond their role in shrinking and fragmenting caribou habitat, they also change the way that many important species move around the landscape. And they regenerate so slowly (some aren't regrowing at all) that they are still covered by grasses and bushes. These forage foods are loved by moose, deer, elk, and bears (who also happen to love moose, deer, elk, and caribou).

Click to see a graphical abstract about a previous study of wildlife forage on seismic lines.
This compounds the problem of seismic lines for caribou, but also offers and opportunity. If characteristics of seismic lines that attract the most predators and primary prey species can be identified, then limited money and resources can be directed to lines with those characteristics, where they will do the most good.
"If we take the probability of detecting key species and relate that to variables like veg height, density of disturbance, snow depth, and distance to the next disturbance," explains Poley, "then this can be used to prioritize restoration."
To do this, she is analyzing the thousands of animals that walked past 145 trail cameras we had set up in the Little Smoky, A La Peche, Redrock-Prairie Creek, and Narraway caribou ranges.
"I didn't do any hard work setting the project up," laughs Poley. "Years and years of the field crew going out in the woods and placing and checking cameras. I get to come in at the end and analyze the data."
Some of the members of the field crew may dispute that they did the hard part. Poley's role is to create dozens of occupancy models to test the probability of finding caribou, wolves, cougars, lynx, bears, deer, moose, and elk for many different combinations of seismic line characteristics. But that's only the start.
"First I'm going to build single species models," says Poley. "Then I'll look at co-occurrence: what influences the probability of multiple species together? I'll check pairs like caribou and lynx, or moose and bears, and I'll also look for relationships with groups like predators and prey."
For land managers in government and industry, this work is a key piece to the puzzle. The Caribou Program has modeled recreational vehicle use, vegetation, regeneration, and how predators use or avoid different disturbance types. With this study, we can now look at the impacts of seismic lines on all the other critters, from bunnies to bears. This will make restoration priorities more clear, and give us a bigger picture of the boreal ecosystem.