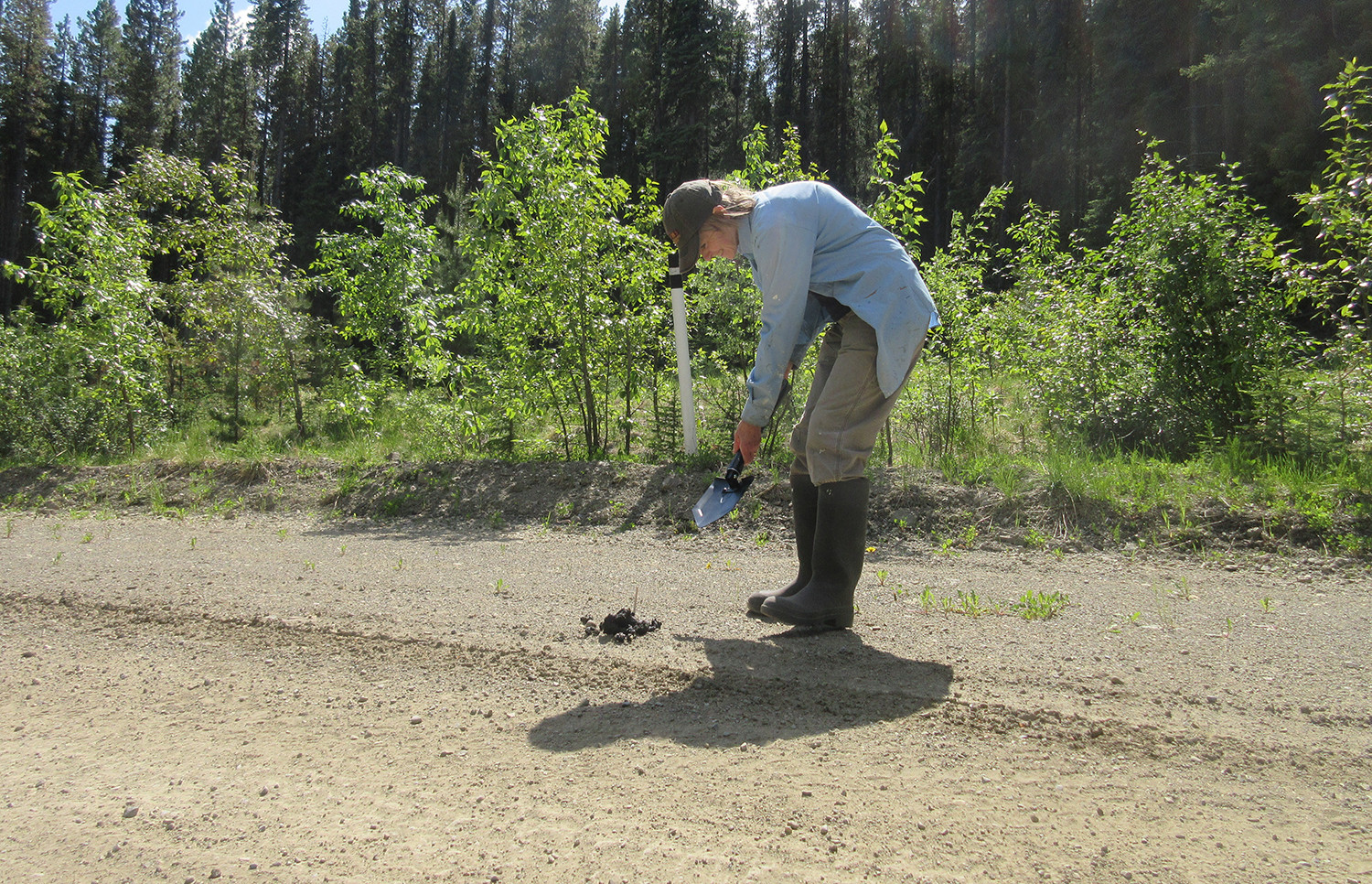 By Isobel Phoebus
Have you ever come across some animal poop (i.e. scat) out in the wild and thought, "I wonder who that came from?" Well, it's been a bit of a bumpy road, but now scientists can often find out. Not only can we tell who it came from, but when we start systematically collecting scat samples found all over a given area, we can estimate the population size of a particular species!
Over the past decade, the Grizzly Bear Program has been developing methods to gain as much information from scat samples as possible. Our first challenge was to establish collection and storage protocols to analyze the low quality DNA found in feces. We went from swabbing scat with Q-Tips and toothpicks to collecting a small amount of scat and storing in vials containing ethanol, finally settling with drying that small amount in vials filled with silica beads. We collaborated with a Scandinavian lab that was seeing much better results for brown bears (of which grizzly bears are a subspecies). The catch? They only have brown bears in Scandinavia, so we needed to develop a way to distinguish grizzly from black bear samples. And we had to create comparable results with our growing genetic profile database coming from blood, tissue and hair samples from other projects and labs. We are now able to identify individual bears from scat, contributing to our long-term genetic database and DNA inventories. All that said, although it is relatively easy for us to find and collect scat, it is still not on par with our ability to identify individual bears from hair and the world of information that stems from knowing who is who.
Scat can still be handy, but it seems to work better for some species and even in some places compared to others, for reasons we don't yet understand. It all depends on what you're after. Want to identify which bear species are roaming your streets in North America? Scat will do just fine. Looking to figure out how many brown bears are in your extended Scandinavian backyard? Scat can do it! Or maybe you want to get the down low on coyote numbers in your neighbourhood. Scat can handle that. You're pretty well set if you can identify individuals from scat in your region for your species of interest, especially if they leave their droppings in plain view on roads.
If you'd like to find out more about our latest research on this topic, check out our recent open access paper comparing two non-invasive approaches: DNA barb wire hair-snag sampling and systematic scat sampling along roads. And watch a quick video demonstrating the latest methods of collecting bear scat.
Phoebus, Isobel, John Boulanger, Hans Geir Eiken, Ida Fløystad, Karen Graham, Snorre B. Hagen, Anja Sorensen, and Gordon Stenhouse (2020). "Comparison of grizzly bear hair-snag and scat sampling along roads to inform wildlife population monitoring," Wildlife Biology 2020(3). https://doi.org/10.2981/wlb.00697.