By: Solène Williams and Claire Kelly
What!? It's already the end of the summer!?
The Caribou Crew headed out one last time as the Alberta Regional Caribou Knowledge Project wrapped up its final field season. The team had to make peace once again with being split up into three groups before heading to three completely different areas and caribou ranges.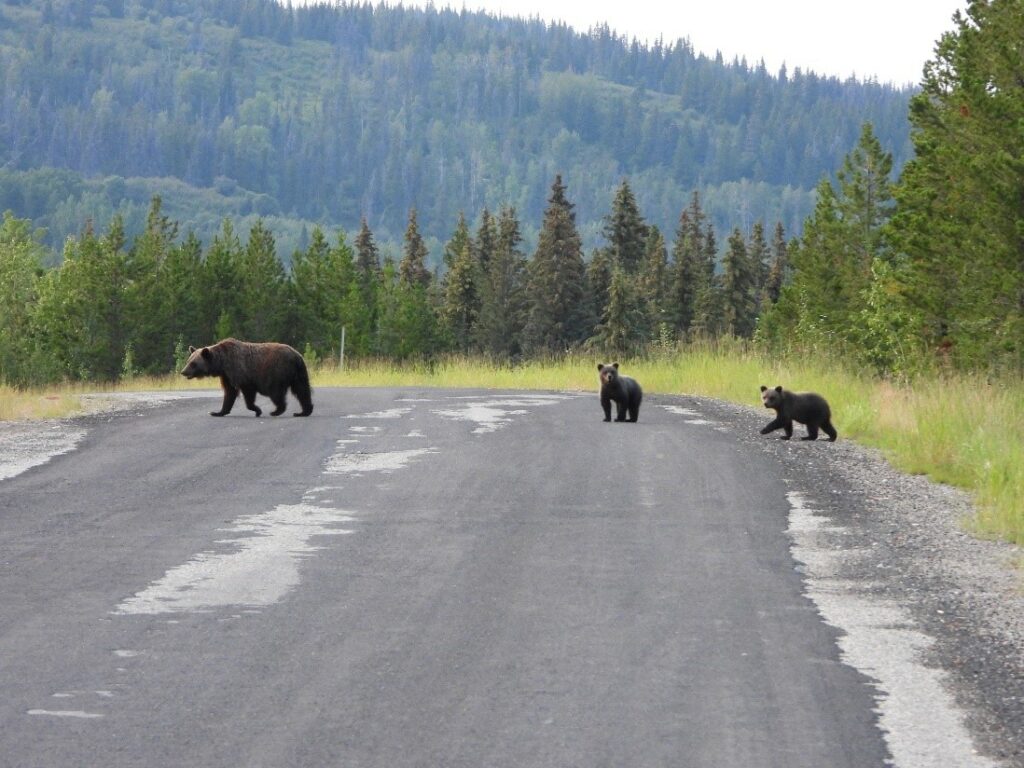 The first team consisted of Elise and Solène and they headed to the beautiful Two Lakes Provincial Park region, which is home to the struggling Narraway herd. Historically, this herd was part of a large distribution which extended throughout much of Alberta's eastern slopes, but has greatly reduced in size. After a hectic prep day, they rolled into camp during a colorful sunset and had an interesting wildlife sighting: a mother grizzly with two tiny curious cubs in tow. As they pulled over by the road to watch the bears, they happened to scare away a lone adult grizzly who had been following the trio closely! Solène and Elise would like to think they saved the two cubs from a predation event (with absolutely no evidence to support this) and patted themselves on the back. They were then able to sit by the side of the road and listen intently to the mother bear communicate with her cubs with various huffs and clicking noises to keep them in line.
Upon arrival at camp, Solène and Elise realized they had just missed a big thunderstorm that had flooded most of the campsites. The campground was also the busiest it had been in years, and they were just able to squeeze into a spot consisting of a large puddle spread across the width of the site. This made for a slippery set up, but all was made right when they were greeted by the friendliest neighbor they could have ever hoped for: a little corgi/Australian shepherd dog named Willow. She proceeded to greet the girls with a very muddy hello when they got back to camp each day, which became a highlight of the shift.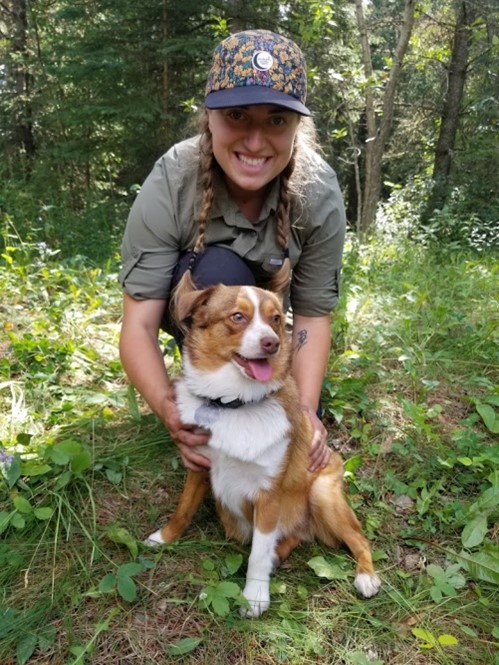 This shift, the girls were eager to start their work at dawn to see more wildlife and enjoy the tranquility of nature waking up. Most days, sites were accessed when the morning mist had not yet been burned off by the sun and the landscape was painted with a golden-pink light. One morning, they were able to spot a lynx on the road hunting for rabbits. These early starts also allowed them to avoid working through the heat of the day, and instead enjoy hot afternoons at the lake!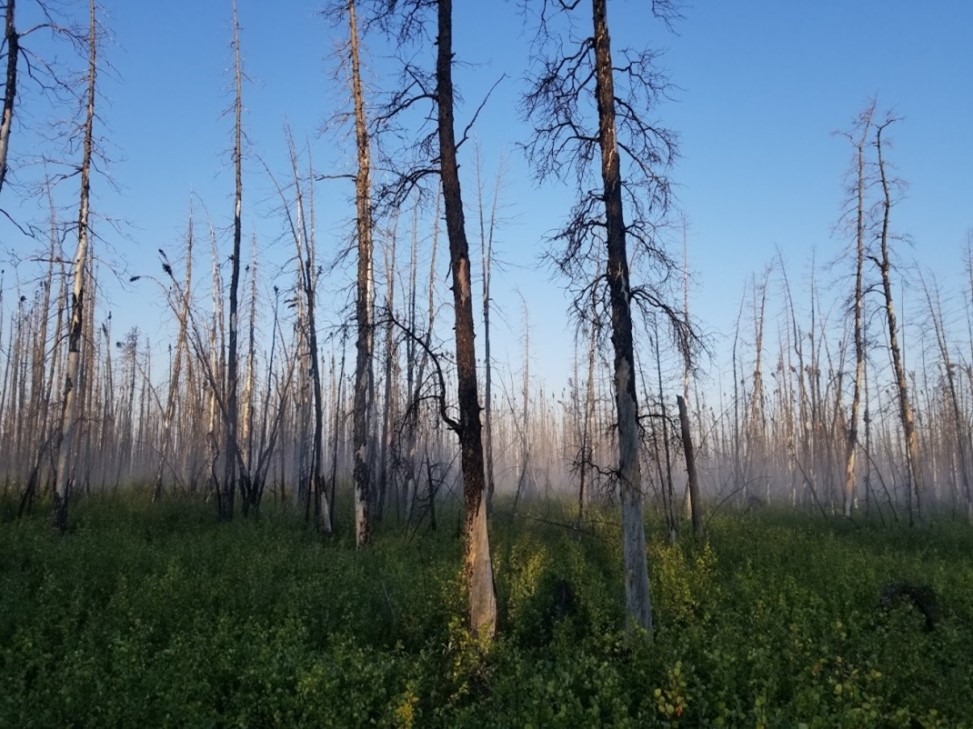 One memorable afternoon was fully watermelon-themed. The duo floated across the lake on Elise's new birthday gift, a giant watermelon-shaped floatie. This was of course accompanied by eating watermelon, drinking watermelon Bubly, and Elise singing "Watermelon Sugar" by Harry Styles. Solène was also able to go fishing one evening and was thrilled to catch a cutthroat trout on her first cast!
While temperatures were tolerable, the girls accessed many cutblock and fire sites in the area. Most fire sites were the result of a large, severe fire that burned a black spruce forest in 2016. The fire converted the area into a field of fireweed interspersed with the charred remains of large trees. As species in the Vaccinium genus love fire-disturbed areas, the girls ate themselves sick on the bountiful blueberries spread across the field. According to the workers they met in the area, caribou were often seen near roads a decade ago in this forest, but none have been spotted since this burn drastically changed the landscape.
One of the many benefits of field work is the number and variety of interesting things you encounter every day. Solène and Elise were treated this shift by finding a very nice pair of fresh whitetail deer antlers that were shed from a deer the previous fall, and beautifully spongy mats of thick lichens. Both girls had spent their whole summer collecting lichen specimens and were happy to expand their collection with the many species found that shift.
As the end of the last shift approached, a different team consisting of Isaiah and Sarah requested back-up to complete the "must-do" sites in their area, so Solène and Elise packed up their things and eagerly joined them in the Grande Cache area!
The sites in this new area were numerous and far spread, and the hot weather had prevented that team from being as productive as desired. Isaiah and Sarah had made camp at Pierre Grey's Provincial Park at the start of the shift, where their field work efforts were focused on the Little Smoky caribou herd habitat. They pair spent their evenings whittling by the fire, exploring the campground, and identifying mushrooms that were picked during their day. They were also able to visit the spectacular Sulphur Gates, grabbed some ice cream in town, and peeked at the federal prison from a distance. The general theme of their shift was to spend as little free time cooking and cleaning as possible and as much of it exploring and going on adventures as they could – and they thoroughly enjoyed it.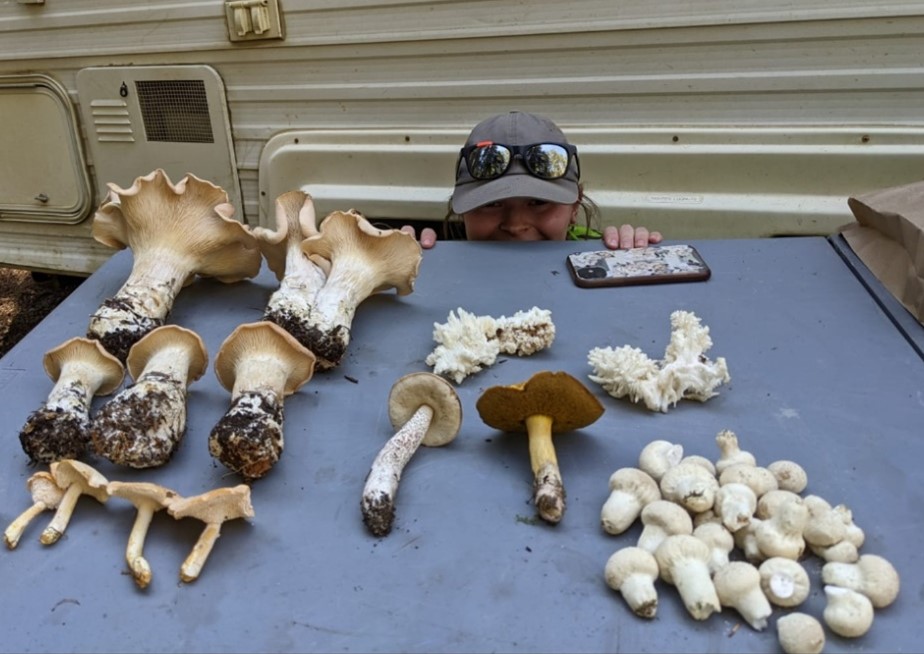 Isaiah and Sarah began each morning on their last shift with their usual battery boost to get the truck started while testing out new theories on what was wrong with its electrical system. They completed sites spread across a large area, meaning there were many long drives. They even returned to the same area as their first shift, which funnily enough still felt like it was just a week ago. The usual chatter on the Forestry Trunk Road kept them entertained, where they learned all about the history of the plunger, heard people's confusions about turning various pumps on and off and listened to a man looking for his friend Bob for several hours.
The end of the summer brought many rapid changes to the landscape as the vegetation started to die off and fall began to creep in. But this meant mushroom season was in full swing! The new team of four spent a few evenings picking edible mushrooms including red caps, hedgehogs and coral mushrooms and looking for shed antlers to admire while exchanging stories from the beginning of shift.
Meanwhile, hundreds of kilometers away, Nikki, Claire, Emily, Micah, Tommy and Christian were back in Red Earth Creek, based out of the usual spot – Guy's RV Park. And wouldn't you know, most of their sites required very long drives and dense, wet walks! Is this sounding repetitive yet? Thankfully, the team was able to reward themselves after long days by cooling off at the local children's splash park, the only source of non-stagnant water for miles around.
One day deep in the boreal, Tommy and Claire were treated to a beautiful upland pine forest, carpeted with fluffy feather moss interspersed with crispy lichen mats, and nothing but ripe blueberries in the understory. They decided it was a lovely spot to enjoy their lunch. Unfortunately, this paradise was short lived. As they were wrapping up their snacks underneath the shady pines, Claire noticed the fattest spider in Alberta crawling on her stomach! She let out a shriek, paused for Tommy to witness the monstrosity, and flung the spider off her. Horrified, the pair watched the creature awkwardly force its oversized limbs through the vegetation as it fled the scene. Fortunately, Claire's wildlife encounters did not end there, and she was later able to spot a lynx crossing a road with Christian and a young cougar crossing the same road with Emily!
Near the end of the shift, Nikki's team decided to bid farewell to friendly Guy's RV Park, and head south to Slave Lake, which was closer to their final sites. A nasty rainstorm with strong winds hit Micah and Nikki on the road, which was enough to rip a window off the beloved Conquest trailer! Drenched and defeated, Nikki and Micah brainstormed ways to bring up the spirits of their teammates, to whom they were dreading breaking the news of the lost window (and subsequent wet bunk). Once all the crews had returned, they competed in countries-of-the-world trivia, feasted on Christian's foraged Bear's Tooth mushrooms, and cranked some tunes for a trailer dance party.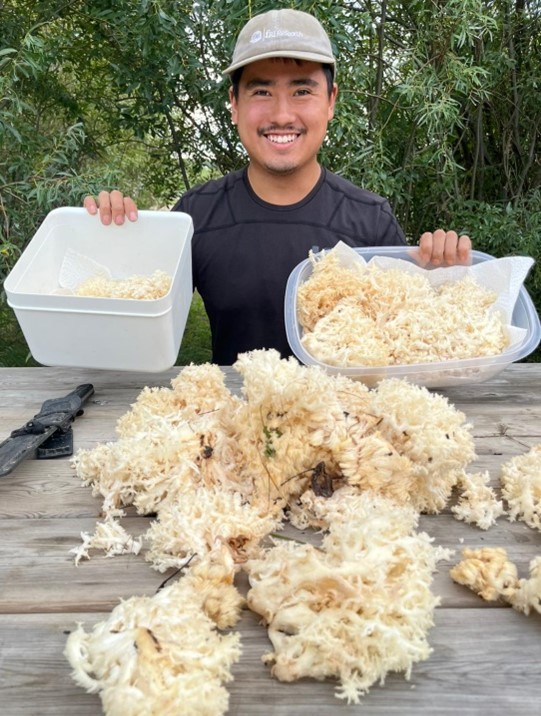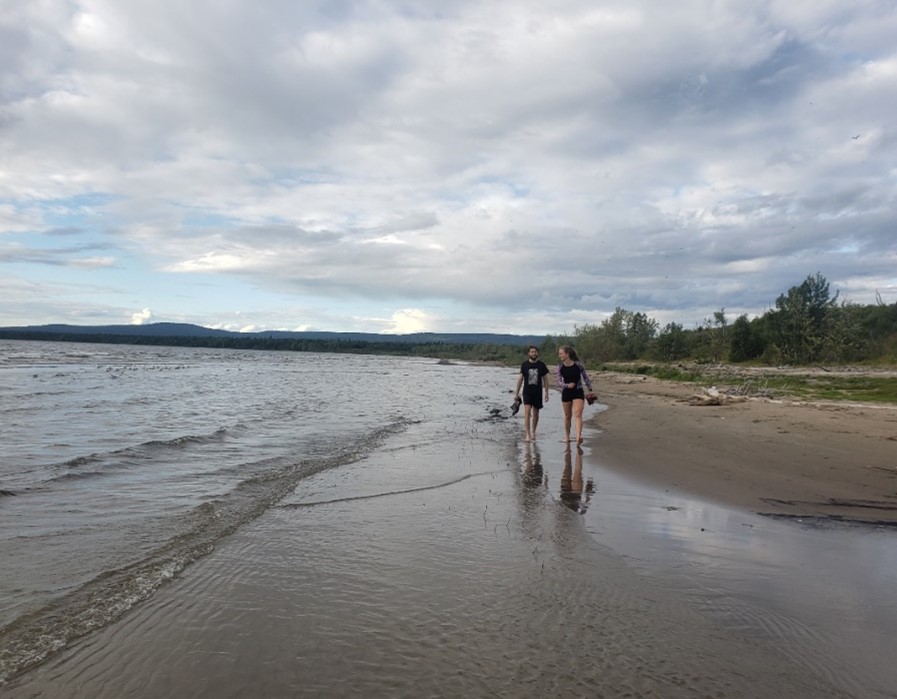 As night fell on the last field day of the season, all teams were getting ready for bed when Micah looked up at the sky over Slave Lake to see northern lights covering the entire sky! Nikki's crew rushed away from the campground lights down to the shores of the huge lake, and huddled together to watch the pink, green, and orange colors dance in the sky. At the same time, miles away, the southern team of four watched the same light show reflecting on the glassy lake surface from their campground near Grande Cache. Although the ten field technicians were separated, they were all able to share in this experience on their last night of a memorable summer.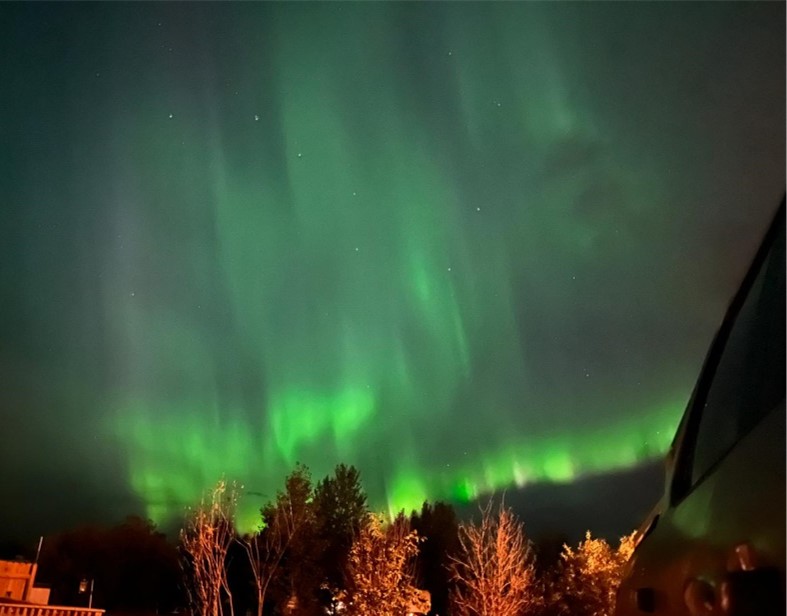 Once reunited back in Hinton, the full crew got to work scrubbing away the dirt and grime that had accumulated over the summer on gear, tools, trucks, and trailers. On their second last evening all together, they were finally able to celebrate a postponed and much-anticipated "Christmas in July" party. Having randomly drawn names earlier in the summer, the ten techs exchanged homemade gifts such as whittled objects, poems, paintings, a cookbook, an embroidered t-shirt, framed lichen, fossils, and wild foraged teas. These were truly gifts to remember, and their final evening together was a night to remember! The crew and their wonderful supervisors, Cam and Leonie, celebrated a successful summer with a delicious barbecue at Cam's house, complete with field crew trivia and terrible karaoke. The evening was a perfect way to cap off a hectic, buggy, boggy, productive, fun-filled summer. The whole New Boo crew agreed that they had learned many valuable field and life lessons from each other and from the boreal, and that they would stay in touch as they go their separate ways to new adventures.