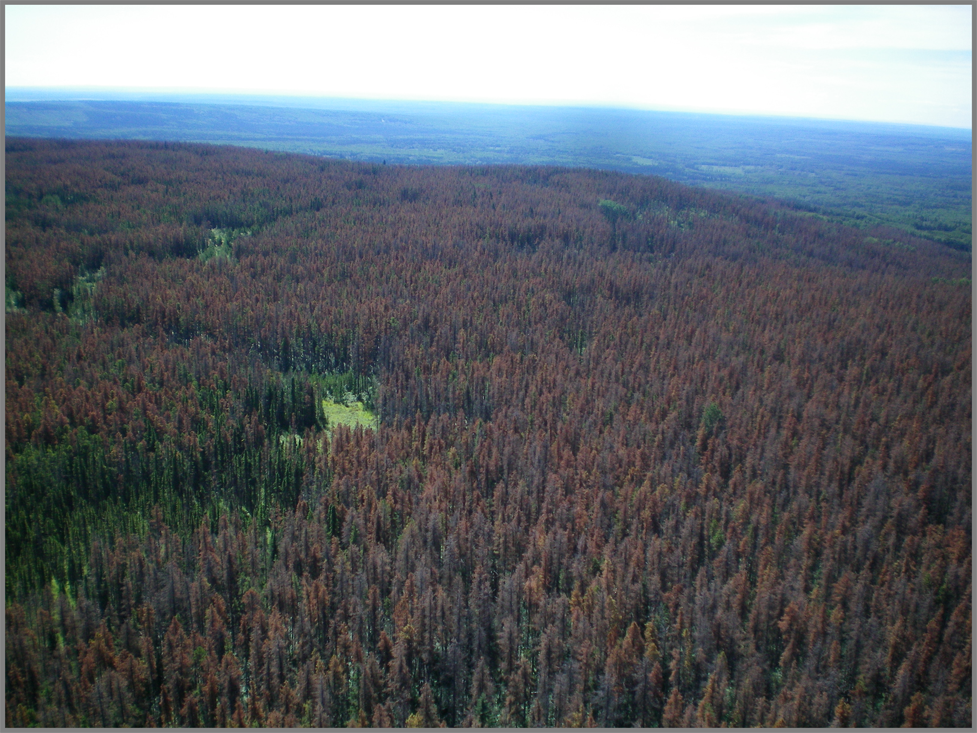 About
Welcome to the Enhanced version of the Mountain Pine Beetle (MPB) Decision Support Tool (DST) web application. A review of the of the first version of the DST lead to recommendations for specific improvements which are embodied in this version of the DST.
The DST is designed to help you assess the impacts of different levels of MPB infestation, and subsequent levels and Intensities of silviculture interventions on post-attack stand development.   Users define simulation scenarios by selecting ecosite, starting stand conditions / stand structures, species composition, stand age, MPB severity, and silviculture intervention.  For each defined scenario, the application reports stand growth projections.
Simulation results include tabular and graphical reports of standard mensurational stand growth attributes, and post-MPB wood quality metrics, for 100 years and 10 years post-attack, respectively.
Simulations are meant to provide insight into potential outcomes resulting from change in stand conditions from MPB attack and subsequent silviculture intervention, and are not definitive outcomes.
The project was sponsored by the Forest Resource Improvement Association of Alberta (FRIAA), the Foothills Research Institute (fRI) Mountain Pine Beetle Ecology Program and Alberta Environment and Sustainable Resource Development (ESRD).  The MPB-DST was developed under contract by FORCORP Solutions Inc. for the Foothills Growth and Yield Association (FGYA).  Technical Direction and assistance were provided by Dr. Dick Dempster, Don Podlubny, Dr. Shongming Huang, Dr. Ellen Macdonald, Willi Fast, Yanguo Qin, Cosmin Tansanu, Brian Maier and Spiros Sioutis for which we extend our appreciation.
We also acknowledge members of the forest community who provided continual support and advice to ensure the successful completion of the project.
A username and password are required to access the DST application.  Prior to using the Enhanced Mountain Pine Beetle Decision Support Tool users are encouraged to read the support document which details the development of the tool.
The application is open to the public.