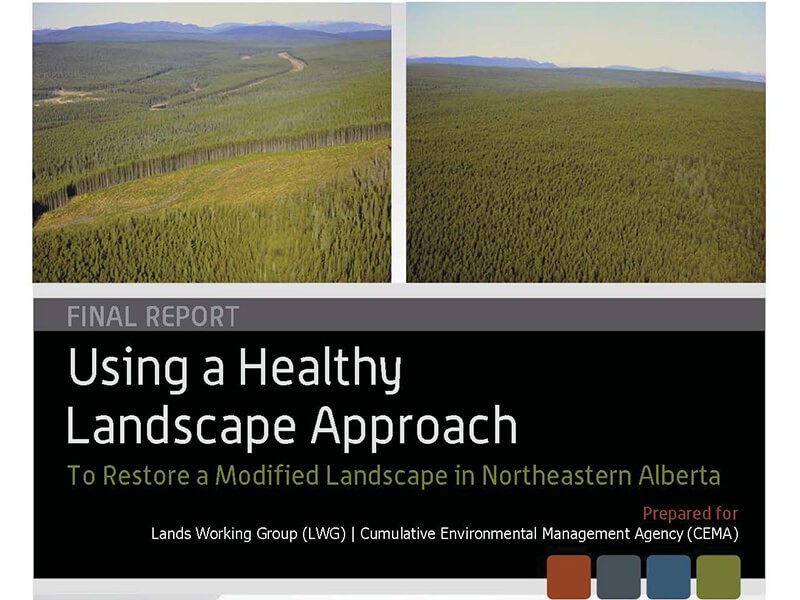 About
In this study, we design and test the ability of what we call a Healthy Landscape planning approach to create more sustainable future landscape on an industrially modified 330,000-hectare area in northeastern Alberta.
The foundation for a Healthy Landscape approach is historical landscape patterns, but also the relationship between climate, disturbance activities, and ecosystem conditions. In other words, an HL approach does not require landscapes to fall within the historic range, but rather the historic range and the associated dynamics becomes a starting point for identifying desired future landscapes.
The Healthy Landscapes Program, which began in 1996, is a rapidly growing network of companies, NGOs, governments and academics interested in exploring how we can collectively use Mother Nature to help design landscapes that are fully sustainable.
Acknowledgements
This project was a true collaboration. Much of the baseline data and other key study area information were developed previously by Compass Resource Management and GreenLink Forestry Inc. In addition to participating on the project team, Alberta Pacific Forest Industries provided raw spatial data, access to a previously calibrated version of the Patchworks model for the study area, and ongoing technical and operational advice. Many thanks to David Campbell for GIS expertise, and Dave Cheyne for forest management input. This project was funded by the Lands Working Group of the Cumulative Environment Management Association, and administered through the Healthy Landscapes Program of fRI Research.