Ben Williamson
fRI Research was out in force at the 16th North American Caribou Workshop in Thunder Bay. The Caribou Program sent Laura Finnegan and Doug MacNearney, to share their caribou research and connect with other top researchers. NRCAN intern Becky Viejou also attended to present her undergraduate research at University of Guelph. Finally, Chantelle Bambrick represented our friends from the Caribou Patrol and Foothills Land Management Forum.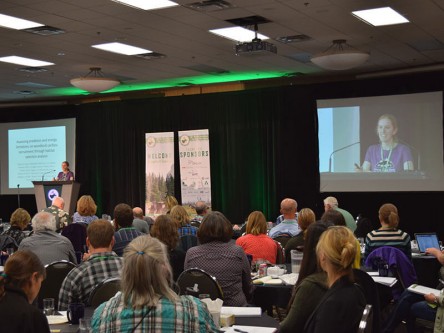 This year, the theme was "Connections," a recognition of the need to bring together the different biology disciplines, traditional knowledge, new partnerships, and cultural values. This theme could not describe fRI Research better. We are a multidisciplinary research organization made up of a diverse group of partners, all working together to improve land management practice. Collaboration between our programs and other researchers, industry, and government is our daily business.
The Caribou Program's contributions included presentations at the technical sessions and posters.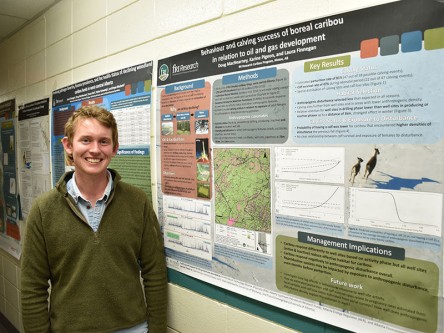 Doug MacNearney presented on changes in caribou distribution caused by anthropogenic disturbance and climate variation. He and the team mapped disturbance density in caribou range and compared it with the distribution of collared caribou over the past two decades. He also brought a poster exploring his research on a related topic—the how caribou behavior and calving success is related to oil and gas development.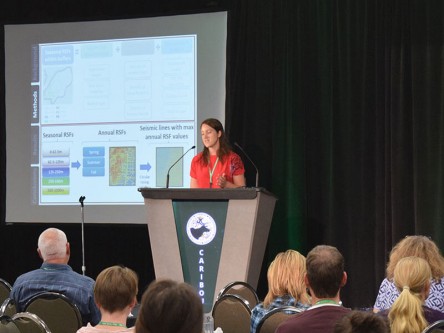 Program lead Laura Finnegan's presentation shared some early results from our efforts to prioritize seismic line restoration. The work links LiDAR measurements of vegetation regeneration on seismic lines with predator and caribou use. This allows us to create a system that prioritizes the restoration of seismic lines where caribou and predators are most likely to overlap. Her poster is on caribou health and disease. Rapid investigations (within 24 hours of death) and fecal surveys let us establish baselines for caribou health and disease. This will make possible early detection of diseases and proactive management.
As well as being a forum for sharing the fruit of our research with over 350 interested stakeholders, the NACW is the perfect place to plant the seeds for future partnerships, and to cultivate new Connections. We're already looking forward to the 17th NACW.