By Dan Wismer
Our grizzly bear tools (GBTools) developed by the fRI Research Grizzly Bear and GIS Programs can be used to analyze grizzly bear habitat changes related to forest conditions, and inform decision-making in support of grizzly bear conservation.
The objective of GBTools are to:
Update habitat maps in order to maintain their currency in a changing landscape
To forecast the effect of a development scenario on habitat quality, habitat states, and mortality risk
To compare, quantitatively, the relative impact of multiple scenarios
With the upcoming release of GBTools, the new version of our Habitat States tool now supports a planned harvest sequence as an input. With this enhanced function, planners can submit their harvest scenario and generate forecasted predictions all in one model run.
The Habitat States tool regenerates grizzly bear Resource Selection Function (RSF), Risk, and Habitat State layers from landscape conditions. Below is an example of the new functionality in action within an area of interest (AOI) located in bear management area 2 (Grande Cache).
A planner can generate and display their new harvest sequence, where for each polygon feature, a recorded year defines the year of harvest.
To get the current habitat quality conditions the planner can submit their harvest sequence as new clearings and set the forecast age to 2020. The base inputs the tool provides currently reflect a 2018 landscape. Submitted clearings that are > 2020 for this run will be automatically ignored.
Once the run is complete, RSF, Risk, and Habitat States layers for 2020 can be viewed.
With the current 2020 conditions generated, the planner can process a second run, bumping the forecast age up to 2030. All harvest polygons will be processed in this run.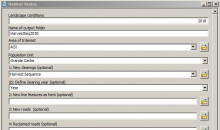 Again, after the run is complete, RSF, Risk and Habitat State layers for 2030 can be viewed.
With the Change Detection tool, the planner can complete the analysis by locating and quantifying any change in habitat quality that their harvest sequence introduced to the landscape.
Before this function, new clearings were always defined as having an age of 0. Now, planners can submit clearings that have a recorded year, reducing the amount of data cleaning and model runs needed for analysis. Look for the new feature in the upcoming GBTools 2020 release.
Our continued goal for GBTools is to ensure that the research results we have generated are provided to land and resource managers for real world application.