Landscapes in Motion
Working to discover some of the stories behind the landscapes in the southern Rockies of Alberta.
Birds sing and the wind rustles the trees as young researchers, packs full of tree cores and cross-sections, hike the final few kilometers back to the truck. Above them on a mountain peak, others carefully pack up their camera and tripod as they feel the deep whup-whup-whup of the helicopter on its way to collect them. And farther still, a modeller in Victoria stares intently at her computer screen, crafting lines of code that will simulate the disturbances that have shaped the landscape on which her colleagues stand.
At its heart, this was Landscapes in Motion: the joining of forces by researchers with different backgrounds to learn about how wildfires have shaped the landscapes of the southern Rockies and Foothills through time.
What Was Landscapes in Motion?
The goal of Landscapes in Motion was to uncover the fire history of southwestern Alberta, learn how the frequency and intensity of fires shaped the landscape over time, and develop tools for analysing landscape change on larger scales than ever before. Altogether, this study sought to inform future management and policy in this important region of Alberta.
The Landscapes in Motion team was made up of forest, landscape and fire ecology experts from several institutions in Alberta and British Columbia, including the Healthy Landscapes Program at fRI Research, the University of British Columbia, the Mountain Legacy Project at the University of Victoria, Natural Resources Canada – Canadian Forest Service, and Alberta Agriculture and Forestry.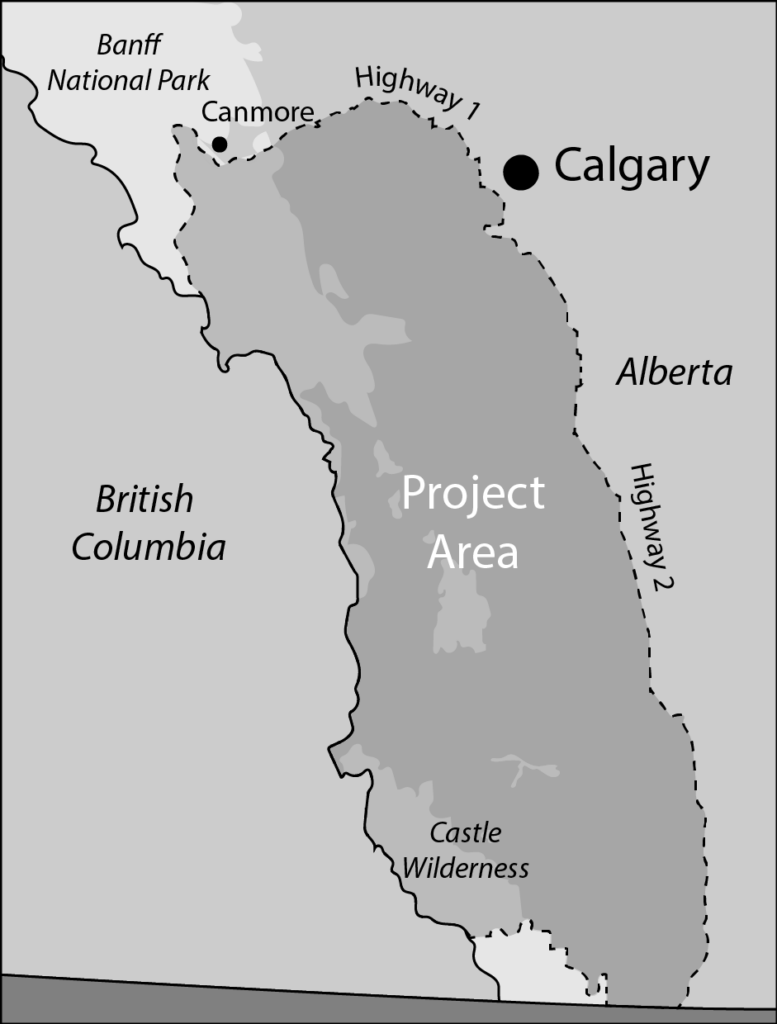 We acknowledge Treaty 7 territory, the land on which we conducted our research. This land is the traditional territory of the Piikáni Nation, the Siksika Nation, the Kainai Tribe, the Tsuut'ina Nation, and the Iyarhe Nakoda (Stoney Nakoda) First Nation, and is home to the Métis Nation of Alberta, Region 3. We acknowledge and thank the many Indigenous, Métis and Inuit Peoples and their ancestors who have lived in and cared for these lands for many generations.
An Integrated Approach to Communication
The Landscapes in Motion leads had a clear vision for the research approach, but they also had a vision for sharing the goals, progress and research findings from the very start. They engaged science communication experts at Fuse Consulting to help them share their work with many audiences, in particular with the people who have the keenest interest in the forests of southwestern Alberta: the people who live there. The goal of the communications effort was to build awareness and understanding about the project from the very start of the program. Goals were also identified to build opportunities for open communication and discussion about project results.
Through the website and regular blog updates, the work of Landscapes in Motion has been shared with interested people in Alberta, western Canada, and around the world. But the team takes particular pride in outreach to the communities within the study area, including a successful field tour, several one-on-one field days in 2018, and presentations to the Crowsnest Conservation Society and at Waterton-Glacier Science and History Day. In 2020, they hosted their final wrap-up workshop as a half-day online event, where discussion was so lively that the questions left unanswered were addressed in a follow-up blog post. The Landscapes in Motion team is excited about the communication techniques implemented, and outcomes achieved, and thanks our various readers and event attendees for their interest and support.
What Comes Next?
Research is a rigorous and continual process. As with all good research, Landscapes in Motion built on the shoulders of others in all three of our focus areas. Also consistent with good research, the project has generated many new questions, for example:
What were the impacts of human influences on landscape patterns prior to industrialization?
Is it possible to 'restore' the front range to a pre-industrial condition – and what are the costs and benefits of doing so?
To what degree do other parts of the western boreal and/or Rocky Mountain front range share similar "mixed" fire regime attributes?
What are the consequences of including partial severity in spatial modelling on other values?
How could the new visual application tools be used to provide critical historical context, communication, or spatial data needs for researchers, communities, municipalities, and others?
These are just a few of the many new questions that have already been tabled by the Landscapes in Motion team, the Healthy Landscapes Program team, and other partners and stakeholders. The timing, nature, and extent of these and many other possible LIM extensions will be determined by a) need, and b) resources, which are at this point unknown. The partners involved in LIM are still reviewing, processing, and discussing the implications of the large amount of output! However, independent of this, most of the LIM team is already hard at work growing their respective research programs in part based on LIM learnings and output. Moreover, they are doing so with the aid of the new academic collaborations created by the LIM project that will last a lifetime.
Thanks to our Funding Organizations
The following organizations have contributed funds that have allowed Landscapes in Motion to continue in its quest to understand how these landscapes have been shaped by wildfire over time. We thank our funding partners for their support.


The Landscapes in Motion team was made up of scientists from many different institutions, with different backgrounds and research interests, but they all have one thing in common: they wanted to learn the history of wildfire and landscape change in the southern Rockies.
Get to know the people behind Landscapes in Motion!
Strategic Vision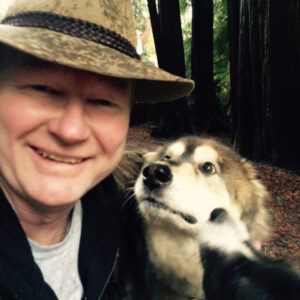 David Andison – Project Coordinator
David Andison is a consultant, the Program Lead of the fRI Research Healthy Landscapes Program, and an Adjunct Professor at the UBC Faculty of Forestry. He has spent much of his career understanding and modelling fire behaviour, but his passion lies in better understanding how natural ecosystems work and using that knowledge to better manage forested landscapes. However, David has come to the humbling conclusion that science alone is rarely enough to affect change. His efforts have thus expanded to include developing decision-support tools, engaging in dialogue, and developing and supporting outreach and education tools.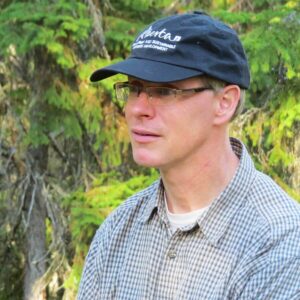 John Stadt – Science-Policy Advisor
John Stadt is the Provincial Forest Ecologist with Alberta Agriculture and Forestry, where he translates science knowledge to forest managers and policy makers. He enjoys this role as it raises many questions about how forests function and change through time and how human activities affect them. These questions have led to his engagement in new science projects dealing with forest biodiversity and the impacts of harvest, climate change, fire, and mountain pine beetle. John was introduced to Alberta's forests while studying long-term natural changes in Rocky Mountain lodgepole pine forests and never ceases to be amazed at how dynamic forests are.
Fire Regime Team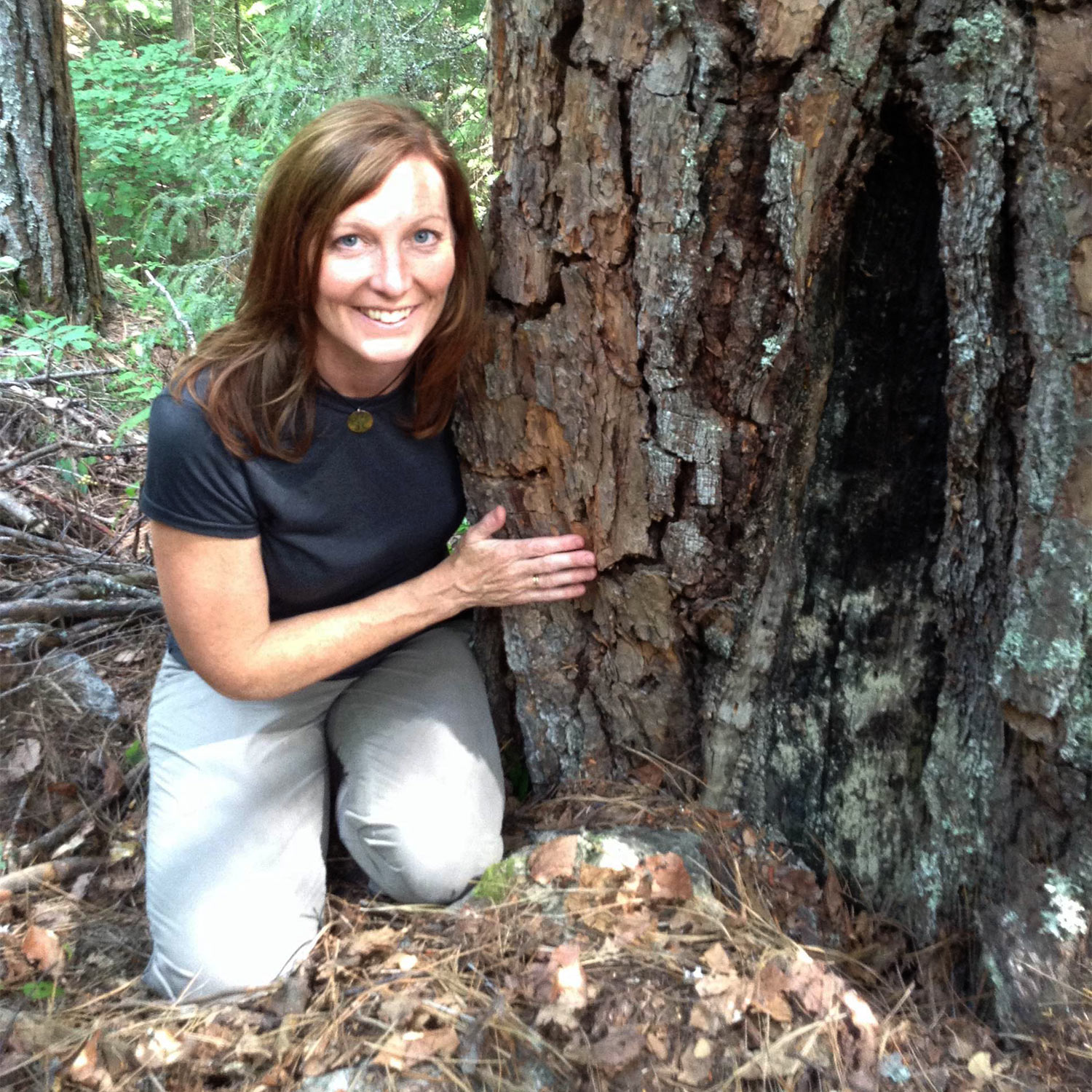 Lori Daniels – Fire Regime Team Lead
Lori Daniels is a Professor of Forest Ecology in the Forest and Conservation Sciences Department at UBC-Vancouver. She is a tree-ring nerd: Lori directs the Tree-Ring Lab at UBC where she investigates and reconstructs past disturbances like forest fires and insect outbreaks, plus the impacts of climate and humans on forest change. With her research team at UBC, Lori is researching wildfires and forest resilience to climate change in the foothills of Alberta, interior BC, and Rocky Mountain National Parks. She serves on BC's Prescribed Fire and Fire Smart Councils and is member of the Canadian Wildfire Subject Matter Expert Committee.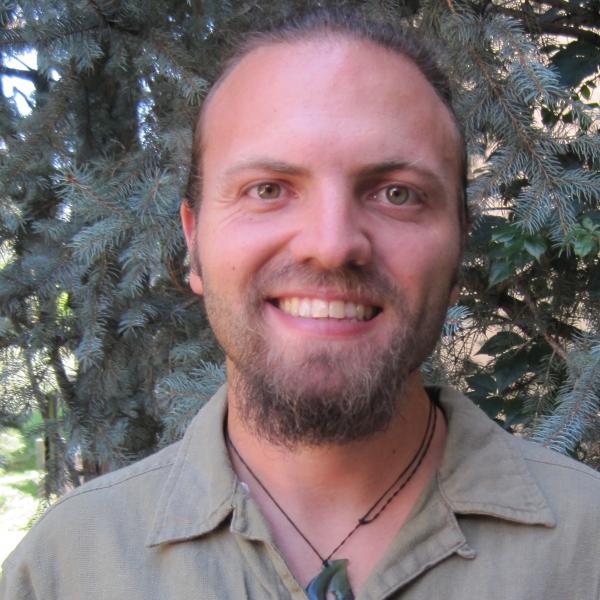 Cameron Naficy – Post-Doctoral Fellow (completed)
Cameron is a landscape ecologist focusing on the causes and consequences of pattern in ecological systems. He has extensive research experience in the Rocky Mountains of North America and in mountainous regions of Patagonia, New Zealand and Tasmania. Cameron completed his post-doc with the Tree-Ring Lab in 2020, and he is now a Research Ecologist with the Department of Forest Ecosystems and Society at Oregon State University.
Visual Applications Team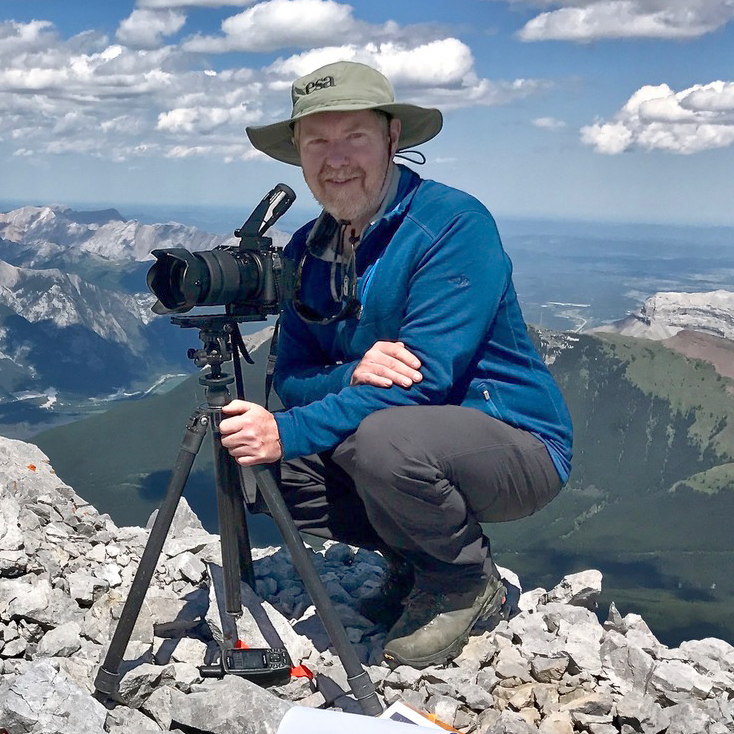 Eric Higgs – Visual Applications Team Lead
Eric Higgs is a Professor in the School of Environmental Studies at the University of Victoria, and Past Chair of the Society for Ecological Restoration. He directs the Mountain Legacy Project, which over the last two decades has repeated more than 7,000 historical survey photographs, many of them in the southern Rockies. His work has helped to establish the image analysis methods which will enable researchers to track landscape change over a century or longer. His research is motivated by a sense of optimism that a better understanding of landscapes will lead to positive change.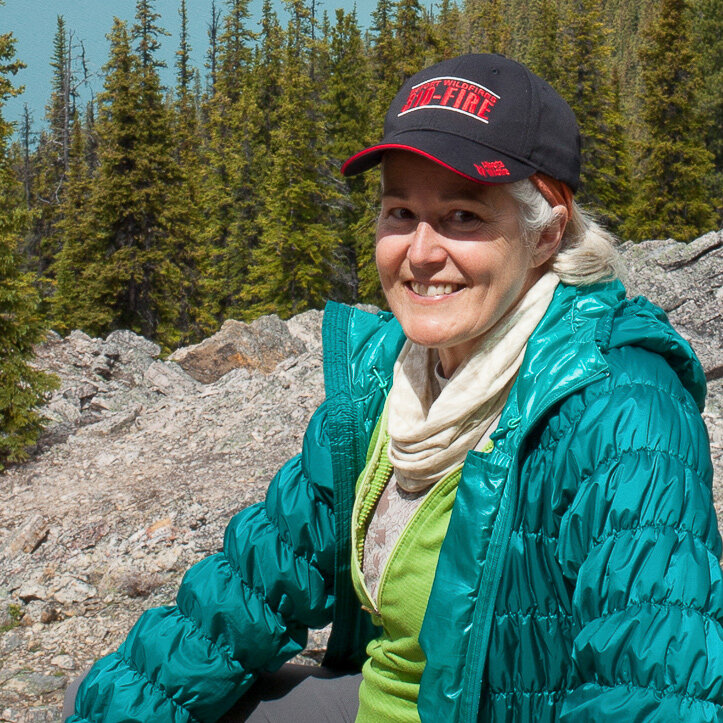 Mary Sanseverino – Senior Researcher
Mary is a Teaching Professor Emerita in the Department of Computer Science, Faculty of Engineering at the University of Victoria. A long-time mountaineer and photographer, Mary's research interests involve work with computational photography, making her a good fit with the Mountain Legacy Project (MLP) and the Landscapes in Motion Visual Applications team. She has been associated with MLP since 2010, going out into the field in every year from 2012 to 2018, and even in 2019 with a new hip!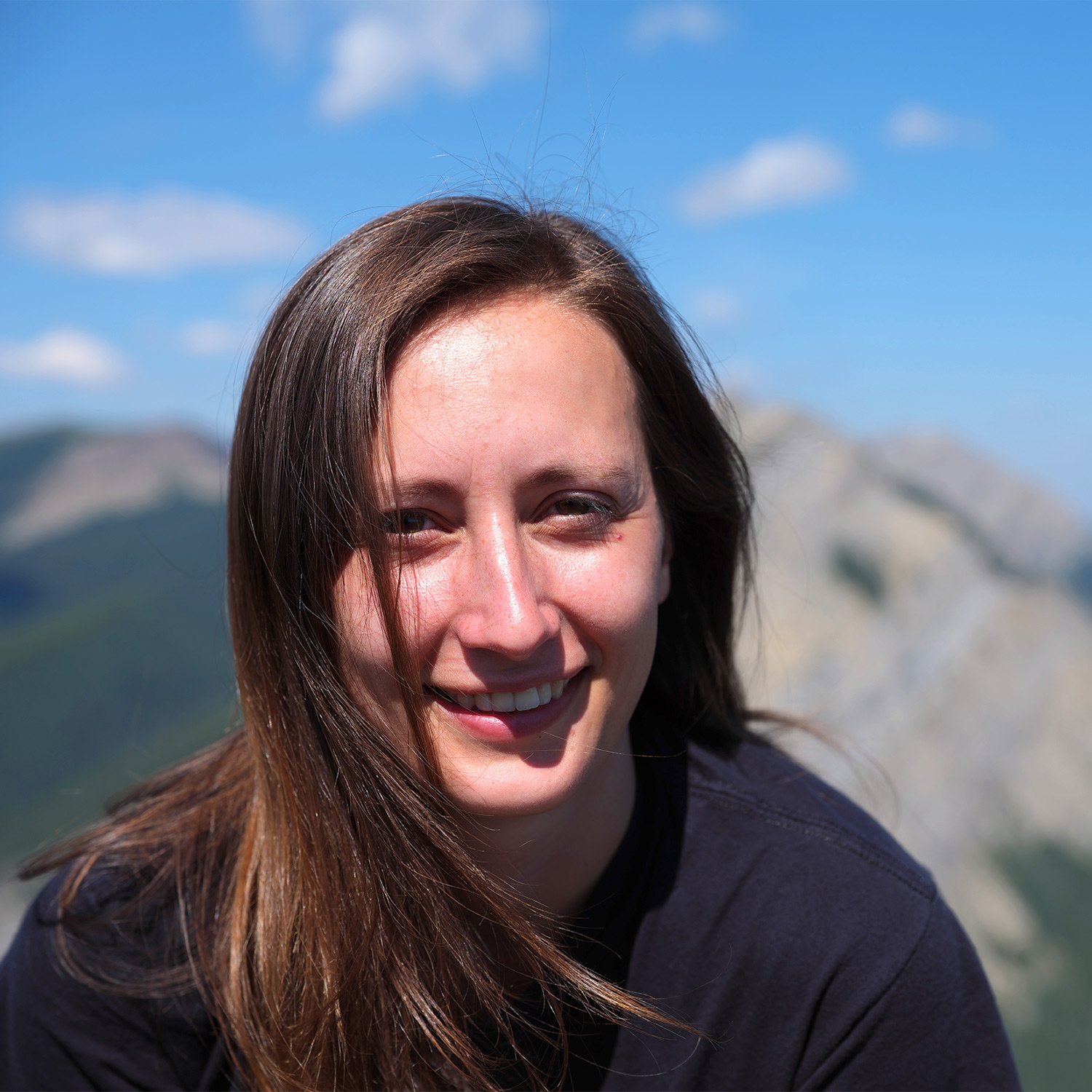 Julie Fortin – Graduate student (completed)
Julie worked closely with Michael Whitney and Mary Sanseverino out of the Mountain Legacy Project lab to develop software for extracting spatially explicit data from oblique photographs. Their work provides an additional line of evidence into historical fire patterns in southwestern Alberta. She completed her M.Sc. in 2018 and now works in the Land Use and Global Environment lab at the University of British Columbia.
Modelling Team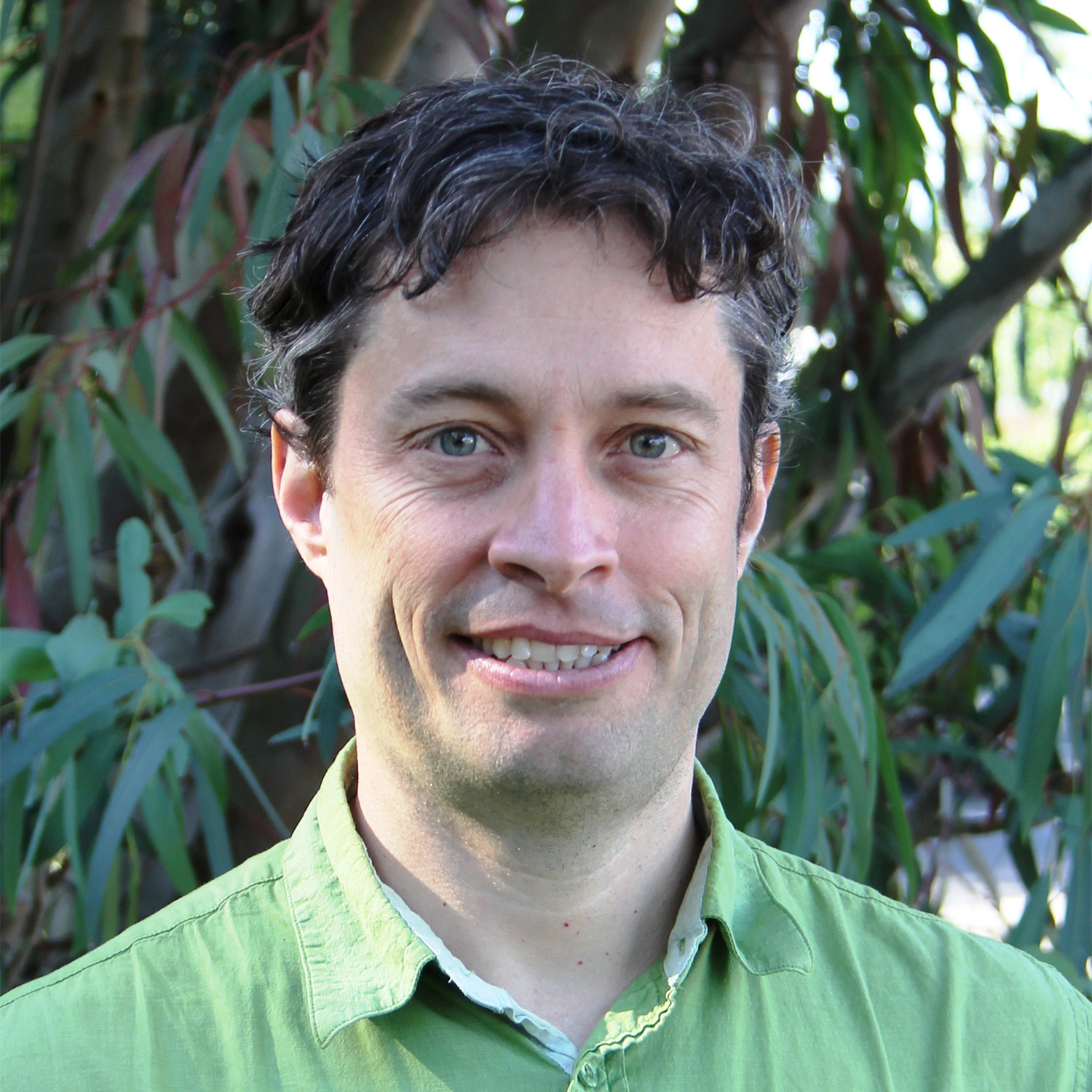 Eliot McIntire – Modelling Team Lead
Eliot McIntire is a researcher from the Canadian Forest Service's Pacific Forestry Centre in Victoria, BC, and an adjunct professor at both University of Laval and UBC Forestry. While he got into ecology to have fun outside skiing across glaciers to find pikas in Yukon and climbing Patagonian mountains to detect climate effects on southern forests, he is now stuck (happily) behind computers trying to solve some of the "Big Data problems". He is the leader of the SpaDES project and specializes in using computer models to understand how landscapes change over time. As a past Canada Research Chair at the University of Laval, Eliot's focus has included understanding boreal wildfires and how to model them.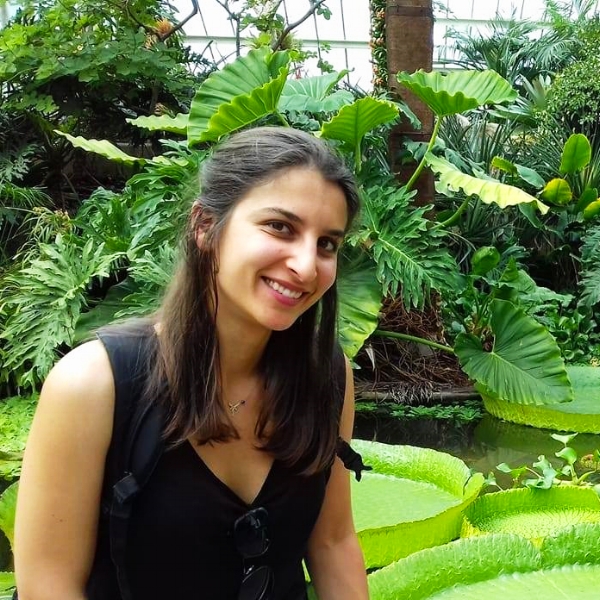 Ceres Barros – Post-Doctoral Fellow (completed)
Ceres is an ecological modeller who's passionate about how ecosystems cope with disturbances like climate warming and land-use change. She enjoys looking at the big picture and understanding these dynamics at landscape to regional scales, across different types of ecosystems and in complex situations with many drivers (e.g., climate, fire, land-use) and players (e.g., many species of trees, accounting for interactions between species).
Collaborators and Support
Chris Stockdale – Collaborator (CFS)
Chris is a research scientist with the Canadian Forest Service, where he studies wildfire risk and how it changes over time and space. He is behind the novel methods used to document vegetation change from historical photographs, and has used these measures to model how fire behaviour has changed in this landscape. As a LIM Collaborator, he continues to untangle this complex landscape to better understand the drivers of vegetation change, historical changes in fire regimes, and the use of historical photography to study ecological change.
Michael Whitney – Research Associate with the Mountain Legacy Project.
Mike is a research associate with the Mountain Legacy Project at the University of Victoria. Mike is the co-developer of the Image Analysis Toolkit software, together with Mary Sanseverino.
Alex Chubaty – Collaborator (FOR-CAST Research & Analytics)
Dr. Chubaty is an ecologist and simulation modeller and co-developer of SpaDES simulation software, with experience implementing a variety of simulation components including vegetation dynamics, fire, insect disturbances, carbon dynamics, and anthropogenic disturbance.
Matthew Pyper – Communication and Education Team Lead
Matthew is the co-founder of Fuse Consulting Ltd., where he combines expertise in science communication, knowledge synthesis, policy development, and project management. He provided strategic vision, oversight and project management for the Communication and Education team.
Sonya Odsen – Communication and Education Team
Sonya is an Ecologist and Science Communicator with Fuse Consulting Ltd., where she applies her science background to a wide range of knowledge synthesis and information design projects. Sonya produced and edited content for the Landscapes in Motion website, blog, social media and newsletter, and helped organize events including the 2018 field tour and 2020 online workshop.
A huge thank-you to the many individuals who provided field, laboratory and communications support!
This project was made possible through the contributions of many. The entire Landscapes in Motion team extends their heartfelt thanks to them!
Fire Regime Team
Field work: S. Ravensbergen, O. Fitzpatrick, A. Many Grey Horses, C. A. Umrysh, I. Mott, R. Martell, A. Howard, and A. Gonczar.Laboratory work: S. Bronson, D. Fluharty, D. Saelle, and C. A. Umrysh.Additional thanks: Noreen Plain Eagle (Piikani Lands Manager) from the Piikani First Nation for logistical support and permission to sample in the Piikani Timber Limit B. John Stadt (Alberta Agriculture and Forestry), Ryan Good (Alberta Agriculture and Forestry), and fRI Research provided critical logistical support. Thanks to M-P Rogeau for contribution of fire scar data and valuable discussion.
Visual Applications Team
Many thanks to James Tricker, Spencer Rose and Chris Stockdale.MLP gratefully acknowledges our research partners and collaborators at Library and Archives Canada / Bibliothèque et Archives Canada LAC/BAC. Their sustained care and curation of Canada's heritage as well as their commitment to sharing it with researchers enables us to carry the Mountain Legacy Project forward.We also acknowledge with gratitude and humility the outstanding efforts of MLP field crews past and present. Without their enthusiasm, passion, care, and dedication none of this work would be possible.
Modelling Team
Many thanks to Tatiane Micheletti (UBC), Steve Cumming (Université Laval), Ian Eddy (Pacific Forestry Centre), and Dan Perrakis (Pacific Forestry Centre).
Overall logistical support:
John Wilmshurst, Terri McHugh, and Ben Williamson at fRI Research.